1. Why doesn't Storm-Tite leak?
The reason why Storm-Tite doesn't leak is because of this uniquely designed EPDM rubber washer. This rubber washer was designed so that it moulds to the sheeting on installation.
EPDM washer made and designed in Australia with a 20-year Warranty
For example, if you had two penetration in your sheeting because you missed the purlin this EPDM washer will cover both of the holes because it moulds to the sheeting. Totally seals.. water from penetrating it.
Storm-Tite is also an ideal solution for re-roofing or re-screw applications, with elongated holes where screws or nails have been removed, the large domed washer will easily cover both penetrations.
A common problem during roof installation, two penetrations require sealing, no need to use silicone just use Storm-Tite!
It's that simple it just doesn't leak
Check out all the information about Storm-Tite a category 5 cyclonic rated fastener.
2. What is so special about Storm-Tite's rubber washer?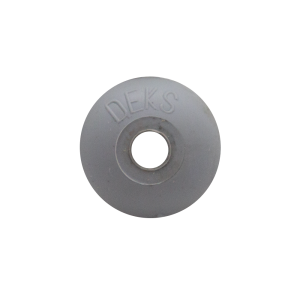 The rubber washer is made in Australia to Australian standards and a genuine EPDM. We use two colours for colour coding black and grey.
Black washers are used for darker coloured roofs
Grey washers for the lighter coloured roofs.
Washer specifically designed to mold to the shape of the sheeting
The washer is suitable for pan fixing and ridge fixing
This EPDM washer by Deks Australia carries a 20 year warranty and is made specifically for Action Fasteners.
The domed washer molds to the shape of the sheeting and seals around the circumference, protecting your roofing from water ingress.
As a point of interest the main properties of EPDM are its outstanding heat, ozone and weather resistance qualities.
Bluescope Steel – Setting the Benchmark for Best Practice Roofing
Bluescope's TB-16 warns that the quantity of carbon black in a washer is critical, as it can form a 'corrosion' pathway, particularly on ZINCALUME® zinc/aluminium alloy coated and COLORBOND® prepainted steel products.
We have found that DEKS black EPDM washers exhibit exceptional levels of performance and provide complete compatibility with BHP Colorbond and Zincalume coated steels. ….. a controlled level of carbon in this product provides 
Udo Buecher, Senior Principal Research Engineer. BHP Research  See Deks Industries website
3. How can you identify a genuine Action Fastener product?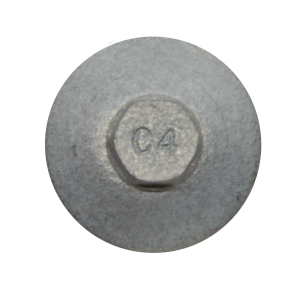 Most companies have a 'head marking' on the screw head to protect their product against bogus imports, brought in from overseas countries.
This I.D. is stamped into the top of the screw head.Storm-Tite has a C4 or C3 head marking, therefore identifying it to be a genuine Class 4 Action Fasteners product.
Storm-Tite C4 'head marking' genuine Class 4 coating applied in Australia by Action Fasteners
4. Why does the head of the screw 'wobble' when drilling?
'Head wobble' is a common feedback issue from Roofing Plumbers. The usual response is to blame the fastener, its design. However, the real culprit is very often the hex bit. There is a small magnet in the shaft whose sole purpose is to secure the screw.
But very often the magnet is too far forward, therefore limiting the amount of surface grip on the screw head, the end result is a wobbling fastener, which is particularly frustrating for the Roofing Plumber.
We have conducted some research on this issue and measured the diameter and placement of the magnet on a number of different brands. The results were inconsistent even within one brand, in other words, they are all different.
The small magnet designed to secure the screw in the shaft varies in its precise placement. The end result is a wobbling screw that is not secure in the hex bit.
You can do one of two things:
Replace the hex bit with a new one; hopefully, the new one will give a better fit.
If you are in a location where you haven't got access to a Hardware Store, just tap the magnet back gently with a hammer and a punch.
Gary demonstrates below one way to eliminate screw wobble.
5. How to minimise chipping of painted screw heads
here are a number of reasons why paint chips on painted heads, these are the most common reasons.
If the quality of the paint is good there are a couple of ways to reduce the damage.
Make sure during installation that the hex bit is correctly placed on the fasteners head. Check out the 'Head Wobble".
The right angle is important, watch the video for more detail.
Another cause is 'swarf' build up in the tool. These metal shavings can act as a cutting agent damaging paint on the roofing fastener. This build-up must be removed.
Using an Impact Driver will damage the paint, these are powerful tools that have become popular because of their speed and ease of use.
6. Is painting part of the Class 4 coating
Painting on the head is not included in your Class 4 coating. The coating under the painted head is your Class 4 coating.
Some damage to the paint is not going to reduce the corrosion protection of your fastener, it is the Class 4 coating under the paint that will safeguard of your roof.
7. What colours are available in Storm-Tite?
We currently have over thirty colours available off the shelf and can do any colour you want, however a sample of the paint is required and some notice. We have all the popular colours available.
All our fasteners are 'Powder Coated' in house, this is a durable paint which is baked on giving you maximum performance.
8. What is the recommended speed to use?
Gary demonstrates the best drilling speed to use while installing Storm-Tite's range of fasteners.
Gary also discusses whether you should use an impact driver.
Action Fasteners Pty Ltd takes pride in inventing, designing and manufacturing the Storm-Tite range of roofing screws here in Australia especially for Australian conditions. The protective coating complies with AS3566 Class 4 and is deposited with great care to match the life of the ColourBond® sheeting. Installation using an impact/hammer drill action will cause damage to the coating and void any/all warranties on service life.